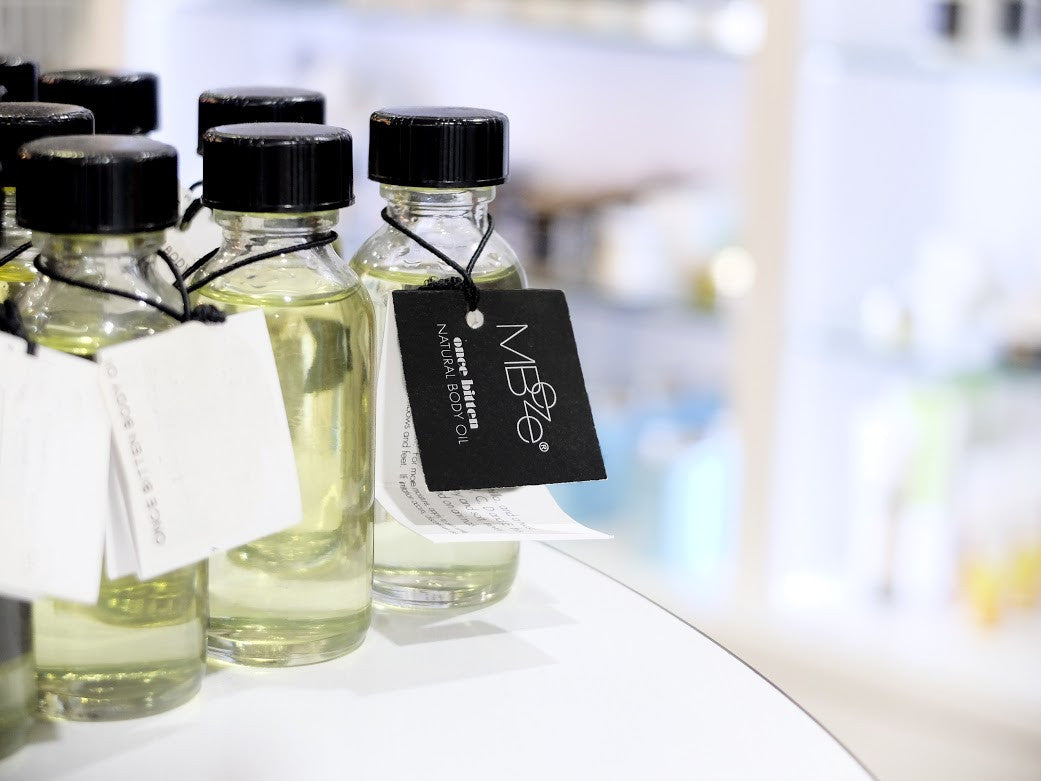 Orange Coast Magazine | Hot Shop
Hot Shop: Natural Beauty
Laguna Beach's Roots takes the organic path
---
Laura Linsenmayer, a Laguna Beach native and cosmetologist, decided a few years ago that we should pay more attention to what's in our beauty products. "It was a common-sense shift," says Linsenmayer, 36. Her business plan included learning all aspects of the industry so she
could open Roots: The Beauty Underground, a Laguna Beach boutique filled with organic, toxin-free hair, skin, and nail products for women, men, and children. Opened in 2012, the sleek
shop is black and white, with splashes of yellow. Mirrored shelves stock 75 lines, including San Clemente-based hair- and skin-care company Original Sprout ($11 to $47) and Newport Beach's No. 4 High-Performance Hair Care ($60).
Linsenmayer questions her clients about their beauty routines and skin issues, then customizes a regimen for them. "I spend $500 on samples every month, so people can try the products first." She offers free makeup consultation and has two hairstylists whose services range from $25 to
$255. She doesn't advertise, and the shop is tucked into the corner of a downtown plaza. "The people who walk through these doors came looking for me," she says. "It's all word of mouth."
---
BARE IT ALL
Linsenmayer loves simple, clean ingredients, so we asked her to recommend some favorite toxin-free products from her Laguna Beach store, Roots: The Beauty Underground. Here is what she had to say…
Ilia: Tinted Moisturizer, lip gloss, mascara, and Lip stick ILIA Beauty is the most healing, nourishing, well-rounded professional make up line that I am currently representing. This organic line is just as much skincare as it is makeup. The color selections are spot on and offer multiple choices for all skin tones. Definitely a ROOTS favorite.
Tata Harper: Noursihing Oil Cleanser, Repairative Moisturizer, and Hydrating Floral Essence. This instant gratification you get from both improved skin as well as the Aromatherapy element of this line is what makes Tata Harper so sought over by my clients. The aromatherapy immediately triggers positive vibes when applying each product, then you are astonished by the immediate results. Tata Harper is the Anti-Aging leader. The line could be considered a bit pricey by some, but my philosophy is that if it performs and makes you feel & look amazing, than the price is absolutely justified.
No. 4: Mighty Hairspray, Hydrating Shampoo N.4 is what we call High Performance Hair care. A truly well-rounded, high performing, non-toxic hair care line that is a favorite for my stylists. Each one of the N.4 products..will perform exactly as it says it will.
– See more at: http://www.orangecoast.com/life-style/hot-shop-natural-beauty/#sthash.hJC3BDkK.dpuf