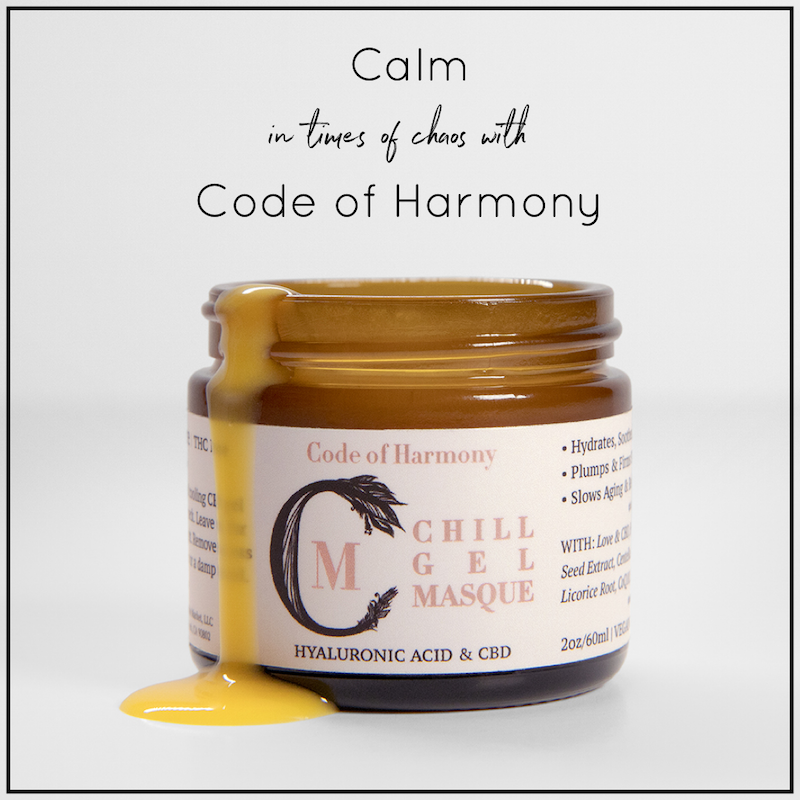 CALM in times of chaos with CODE OF HARMONY
The COVID-19 pandemic has caused a ripple effect of panic and chaos across the globe.  As we collectively engage in the power of stillness (also currently being referred to as "social distancing"), ROOTS will be offering snip bits of content to encourage you to take advantage of the silver lining that these trying times have presented us all -- the opportunity for greater SELFCARE. 
Today we wanted to highlight Code of Harmony, a product line we carry that is very near and dear to our hearts for many reasons that coincidentally align with alleviating some challenges being faced by communities having to quarantine.
RELAX from Stress/Fear/Worry - CBD is one of the many ingredients Code of Harmony uses to bring your skin into homeostasis, or perfect balance while also providing a greater sense of peace and serenity. While CBD is the star ingredient, they know that it takes a synergistic formula to achieve happy, healthy skin. Their blends are made with therapeutic doses of CBD, antioxidants, vitamins, and nutrients that have been scientifically proven effective and safe. 
SUPPORT Small Businesses Struggling - As you know, ROOTS Beauty is a reseller of thoroughly vetted clean beauty products such as Code of Harmony.  Quality of ingredients, sustainability, small batch production facilities, locally sourced, etc. are all factors in the equation of welcoming a new brand to our store.  Many of these companies that meet these requirements are by nature, small businesses. So it's more critical than ever to be making your selfcare purchases via ROOTS and companies who share a similar business model. By doing so, you are supporting a number of small businesses who need your support more than ever. 
TREAT YOURSELF to self care during down times -- Code of Harmony's Chill Gel Mask is just what the doctor ordered!  Take some time for your skin to chill. We suggest napping for 30 minutes after applying the cool gel, or wear overnight as a sleep mask, and wake to calm, even-toned, and visibly tightened and brightened skin.
This ultimate skin de-stressing treatment combines CBD + Hyaluronic Acid into a slippery-soft skin conditioning masque. Hyaluronic acid and Sodium PCA are skin-identical ingredients that occur naturally in our skin. These deep skin hydrators absorb water, drawing moisture to the skin, leaving it plump, smooth, and deeply hydrated. They added Centella asiatica to firm and visibly soften lines, and CoQ10 to energize skin's own regenerative capabilities. 200 mg CBD and Hemp seed extract, Licorice root, Colloidal oat, Panthenol and Allantoin are a powerful blend of gentle soothing ingredients that will calm stressed, dry, sensitive skin.
Meet us back here later this week for more self care inspo!