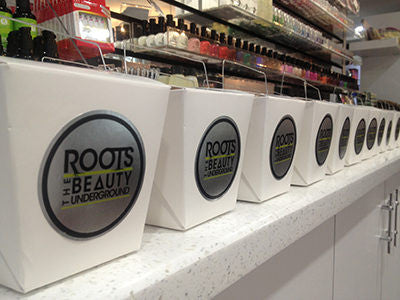 Minding Our Business: "Back to the Roots" an Interview with Laura
Randy Kraft | January 17, 2013 | Laguna Beach Independent, a publication of Firebrand Media LLC
Interview with Laura of ROOTS The Beauty Underground
http://www.lagunabeachindy.com/2013/01/17/minding-business-roots/
When Laura Linsenmayer, 34, decided to open Roots: The Beauty Underground, it made sense to set up shop in the town in which she was rooted. Her family relocated from Ohio to Laguna when she was 10 years old & this is the place she calls home.
First, however, Laura set about learning all there was to learn about the beauty business & spent more than a dozen years as an apprentice, before setting down roots on Forest Avenue last August.
"This is what I wanted to do for as long as I can remember," she said recently from her elegant shop at the Lumberyard. "When other kids were playing office or school, I played salon."
Determined to learn the business, she attended beauty school in Orlando, Fla., then migrated to New York City, Park City, Utah & Los Angeles, progressing from salon receptionist to hairdresser, cosmetician, & sales representative for Estee Lauder, Primrose Salon, & Bare Escentuals, were she moved the business from 44th in national revenue to fourth in two years.
"I used other businesses as my classroom & learned how to, & how not to run a business."
When Laura returned to Laguna three years ago, she took over management of Bay Beauty Supply in Dana Point, & when her offer to purchase the store was declined, she decided it was time to open her own.
Linsenmayer has several spiral-bound notebooks filled with thoughts on best practices & she pays close attention to trends. Over time, recognizing how toxic many beauty products are, she sought out healthier alternatives. Roots offers high-quality, mostly organic & natural products that, she says, serve the woman in Chanel as well as the woman wearing Patchouli.
The bright space at the shop mimics a French-style apothecary. White walls, dark wood floors, & black & white furniture serve as a backdrop to colorful merchandise: skin & hair care, tinctures & essences, scents, hair accessories, & a full complement of cosmetics. She is still sourcing elsewhere, but is considering a line of her own.
Such products can be expensive, so Laura policy is fair pricing every day: no discounts, no sales. She also offers free samples because customers like to try before they buy. Laura keeps watch for the best new products & constantly shifts the line-up. Even natural beauty, she acknowledges, is a fashion business.
Last fall, Roots held a mother-daughter event & in February will host a Valentine's Day party, which she hopes to make an annual happening. You can see by her bright smile & up-beat demeanor that she is always thinking about what's next, tempered with realistic expectations.
"I will grow as I am ready to grow," she said with a sparkle in her eyes, adding that she envisions a Roots in every beach town on the southern coast. All in good time, of course.
Roots is at 384 Forest Avenue, Suite 9. www.ROOTS-beauty.com.
Randy Kraft is a freelance writer who previously covered the city for the Indy & pens the OC BookBlog for www.ocinsite.com. This is the first of a new column on Laguna businesses & business people.