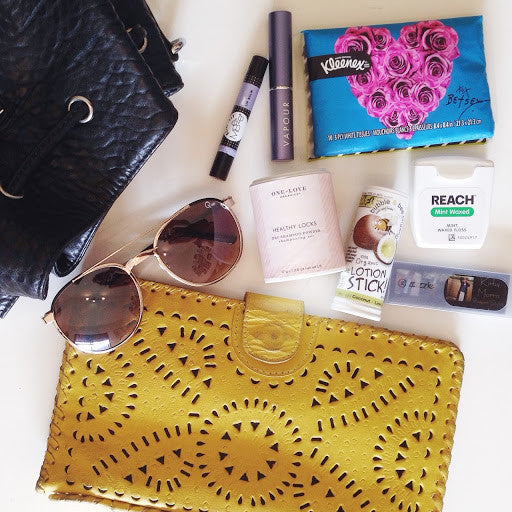 Fashion By Day Whats in My Bag
What's In My Bag.
A peek inside my bag featuring some of my favorite new organic beauty products from Roots Underground, a local beauty store that carries all organic products.
The Bag: Forever 21 Convertible Bucket Backpack
The Wallet: Cleobella Mexicana Clutch (holds everything!)
The Shades: Quay Sundance Aviators
Essentials: Mint dental floss, cute tissues, business cards
This One Love dry shampoo is a life saver, perfect for mornings when I don't have time to wash my hair or mid day touch-ups. I love how light is feel, I don't feel like I have any product caked into my scalp.
 Mbeze Slim Fit lip balm, basically a no brainer for any occasion, I love the slim shape because I can also fit it in just my wallet or in my pocket if I need to.
 This time of year the air in SoCal is extremely dry so it's important to moisturize all throughout the day I love this Bubble & Bee Lotion Stick because it's light and not greasy great for apply mid work day.
 And of course no bag is complete without a good lipstick and I love this Vapour Siren lipstick in Ravish, a great go-to red for any occasion.