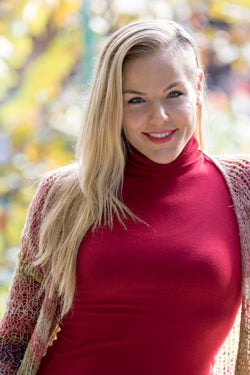 Back to her ROOTS | STU News Laguna
Laura Linsenmayer: Back to her ROOTS, and driven by the moon to find her "magical vortex"
Story by SAMANTHA WASHER
Photos by: Mary Hurlbut
Laura Linsenmayer, owner of ROOTS the Beauty Underground, says she finds it "hilarious" that Laguna is where she ended up. After moving here in sixth grade she says when she graduated from Laguna Beach High School, "I was the classic case of 'I'm leaving my hometown and I'm never coming back!'" So she set out to "find herself" by living in Florida, Park City, Los Angeles and Connecticut. The plan was to move every two years because, as she explains it, "that gave me ample time to build roots there. I just kept doing that."
A surprise homecoming
"That" stopped when she decided she had learned enough from running other people's businesses and was ready to open her own. "I never even considered coming back home," she says. Rather, it was her family's suggestion. They must have been persuasive because Linsenmayer opened her shop in the Lumberyard Plaza on August 1, 2012. 
A good omen helps launch ROOTS the Beauty Underground
"From the date of conception until I opened my doors it was nine months," she says, completely grasping the symbolism. "When I fully committed in my soul it was a divine lead. Everything presented itself really smoothly; everything unfolded so flawlessly I knew it was the right thing to do." The fact that August 1 happened to be a full moon was one more good omen. "I'm driven by the moon," she says.
Click on photo for a larger image
Laura Linsenmayer, owner of ROOTS the Beauty Underground in Laguna Beach
13 binders full of research provide the blueprint
Linsenmayer is also driven by a desire to help people. Her enthusiasm for her business is sincere and infectious. However, it was not necessarily part of a grand master plan. "I always knew I'd be in the beauty industry," she says. She went to beauty school at 18 and has worked in some facet of the industry ever since. Every job she took she considered "research" for her future business, whatever that might be. She was so committed she wrote down things she thought worked and, more importantly, things she didn't, eventually filling 13 binders. These binders became the blueprint for ROOTS the Beauty Underground.
Enlightenment leads to a business idea
While she was methodical with her experiences, the actual idea for her business was more happenstance. She had moved to LA and was walking her neighborhood looking for work. She walked into an organic hair salon. "I was just drawn to these girls," she says. She listened and learned. "Once you've been enlightened you can never go back. I just got deeper into it." The idea of natural, non-toxic beauty products took hold. "It was important for me to find a niche that required depth. This was it," she explains. So she dove in, learned all she could and launched ROOTS the Beauty Underground.
Click on photo for a larger image
The "magical vortex" where ROOTS has been for six years
SIx years ago the idea of all natural beauty products, while not new, was not nearly as ubiquitous as it is now. There was enough of a market, however, that customers sought her out in her tucked away location, a "magical vortex," she calls it. She made sure the products she carried had a store locator list on their website. "That was the root of how people started to find me," she says. (Sidenote, Linsenmayer uses the word "root" a lot in her conversation. Just one more example of how connected she is to her business.)
Providing customer service that is unparalleled
Now, with her customers being split an even 50/50 locals and out of towners, Linsenmayer says her concern isn't so much raising awareness about the store, it's battling the Amazon effect. "We need to provide an experience they can't," she says. "The depth we go to is unparalleled. We won't stop until we get you your perfect program."
It's all about the education
Linsenmayer and her team do that with education. "We're educators first and foremost," she says emphatically. "I want people to know they can come in here and just learn. There's no pressure to buy anything. Come in for the education and leave feeling better about yourself."
An area where education is making huge inroads is with her hair salon. People used to think organic hair color didn't work effectively. "Now," she says, "the word is out that it does work and it's fabulous. It's so fun to watch the graph go up in that area of the business." 
The importance of what we wear is comparable to what we eat
Like all businesses, Linsenmayer has had to make adjustments to her inventory. One that has been a surprise is her now minimal kids section. "When I opened I had a really extensive kids section," she says. "I have been surprised over the years that parents weren't more enthusiastic about buying these (non-toxic) products for their kids," she says. As more information comes out about what is in much of that we put on our body, this may change. "These products," explains Linsenmayer, "hold just as much power (over our health) as food does."
Non-toxic beauty products will eventually become "the norm"
That's why she believes the idea of natural, non-toxic beauty products is going to become the norm in the future. "The toxic products industry won't last much longer," she says confidently. Her goal is to spread the word about non-toxic products across the country. And she'd love to help others do the same.
Click on photo for a larger image
Laura Linsenmayer works her magic with her non-toxic products on a client
Hoping to help others by providing them with her plan
It took Linsenmayer 20 years of research to learn what she needed to learn to open her business and keep it thriving. "I couldn't have done it if I had a kid or a husband," she says. A future goal is to put everything she has learned, from products to procedures, into a business plan so that others can do what she has done, albeit under their own name. "I would love for people from all over to say 'I want to open a store like yours' and I could provide the business plans and systems operations and they can put their name on it." That speaks to her passion for what has clearly become a mission.
Striving to help Mom feel good
And passion is something Linsenmayer has a lot of. Not just for her business, but for the natural products industry as a whole. She also really, really, really wants to help people look and feel their best. "My favorite thing is making people feel good about themselves. That's where it's at. When Mom feels good everybody wins. That is so cool!" she says excitedly.
Six years in and feeling like she's just getting started
So if you're in the market for a cleanser or a lip gloss or need a new hair stylist, Linsenmayer and her staff are here to help. For someone who never intended to return home, Linsenmayer chuckles at the fact that she now attends city council meetings. She has also now has a new appreciation for her hometown. "I didn't understand how special it was being from a small town." And even though she is back in that small town for awhile now, there are still people who haven't found her shop yet. "People come in and say, 'How did I not know you were here?' I love that! I feel like I'm just getting started."
Orginal Article via - http://stunewslaguna.com/front-page-ii