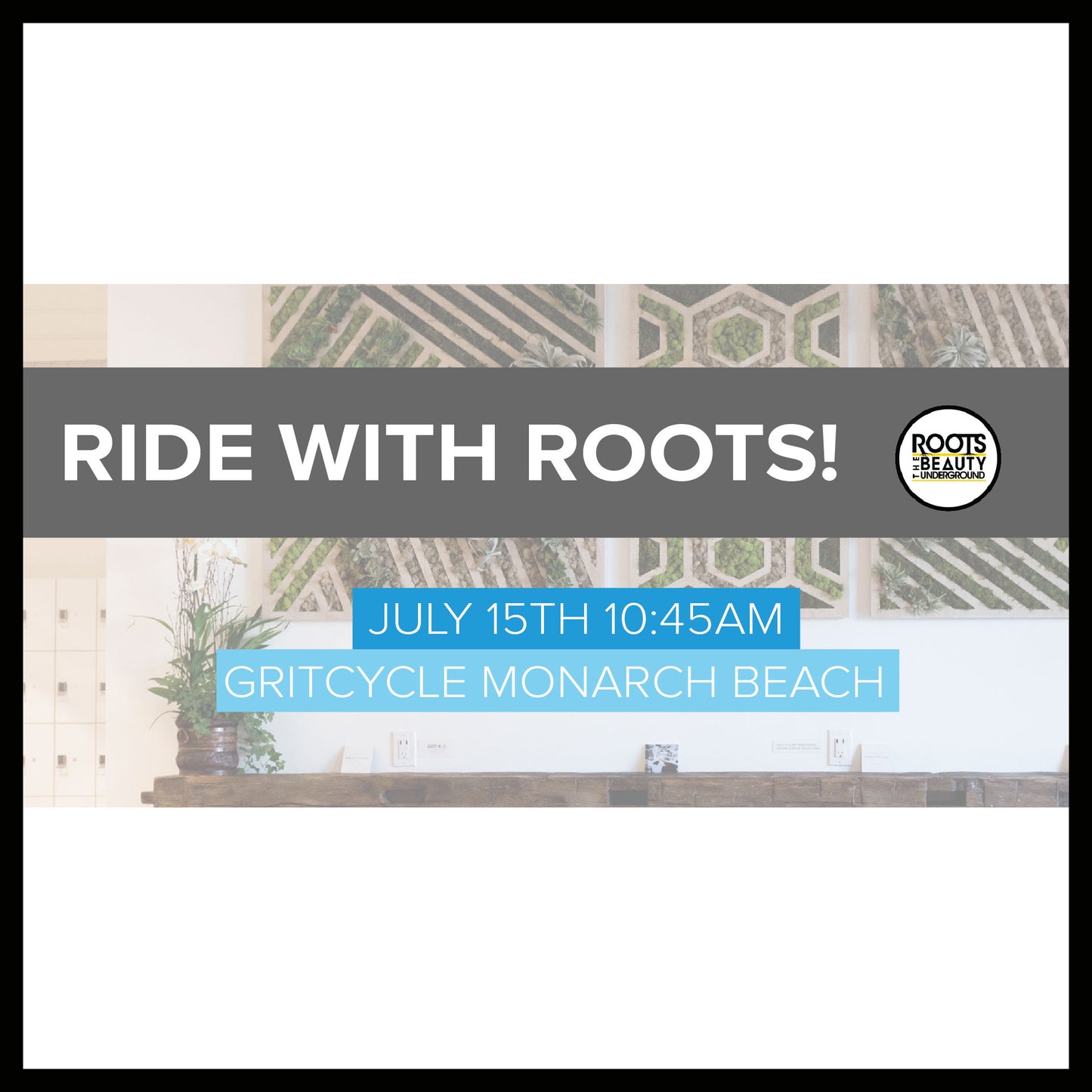 Book your bike! Registration is now open!
RIT Cycle - Monarch Beach
32932 PACIFIC COAST HIGHWAY #6
DANA POINT CA 92629
(949) 388-5102
Have you ever wondered what #greenbeauty products you should be wearing on your skin pre/post workout? Look no further! Laura will be speaking/teaching on everything you need to know pre/post sweat! Join us for a FREE ride @gritcyclemb Monarch Beach on Saturday, July 15th at 10:45AM. After the class Laura & the #RootsBeauties will be touched up & tapping on some of our favorite products that are safe to use before & after your workout! Make sure to sign up & reserve your bike today - there will be some fun goodies you'll be sent with to try! Here is how you sign up for this complementary class (free for NEW clients to GritCycle) 1) Log onto www.gritcyclemb.com

This class is FREE if you are NEW to GritCycle in Monarch Beach.  
To register for the ROOTS Ride
1) Log onto www.gritcyclemb.com
2) Choose BUY CLASSES
3) Choose "First Time Rider Single Class" option
4) Read & agree to terms (loud music + cancellation policy)
5) Use the promo code "smartycassie" for your free first class
6) Choose "place order"
7) Then choose RESERVE & book your class for Saturday, July 15th at 10:45 AM with Kelli
GRIT Cycle will provide indoor cycling shoes, please bring water, a smile & a friend.  We'll handle the rest!  
You MUST register for this event via the GritCycle Monarch Beach website with the promo code.  If you are not new to GritCycle MB, you can purchase a class at the regular price.